Facilities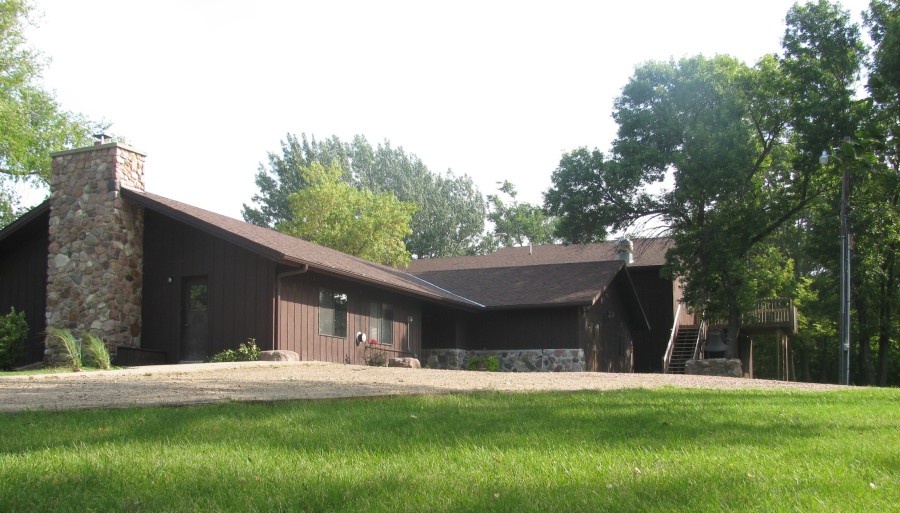 Surrounded by a beautiful lake and a wide variety of trees, prairie grasses, and wildlife, Swan Lake Christian Camp is ideal for get-a-ways or gatherings in any season. Family camps, conferences, reunions, church retreat groups, children's camps, and other groups are sure to enjoy Swan Lake Christian Camp's unique hospitality.
Our new retreat center finished in 2018, overlooks the year round beauty of Swan Lake.  There is meeting space designed for large or small groups.  Eighteen hotel-style guest rooms accommodate families or adult guests.  There is a  access to a small kitchen for guests who want to make their own meals.  Meals are also available through our camp kitchen so you can sit back and relax.

Swan Lake Christian Camp has cabins that have bunk beds for sleeping 10-14 people.  Typically used for our youth camp program,  but also available for rental.  Nearby bathhouses service these cabins.  Bring your sleeping bag and a lawn chair and experience "camping" while not having to sleep on the ground!

Lodge
Our lodge rooms were added in 1990 as a way to provide some adult spaces.   3 rooms sleeping 6 people each in bunk beds. One additional room sleeps 4 people in bunk beds.  Great for youth groups or family reunions and is just upstairs from the dining hall and meeting space.  These rooms have 2 shared bathrooms down the hall each with 2 toilets, 2 showers, 2 sinks.

Our chapel offers a large variety of options for conferences, camping experiences and retreats. A full sound system is available, as well as a piano and drum set.  A large TV on the wall allows for projection from a computer.  The room can be set up with chairs for meeting or worship, or as recreational space.

The dining hall overlooks the lake to offer a great view during meal time fellowship. Round tables offer a great way to visit around a meal served with our delicious homemade foods.

Trails
Multiple trails available not only on our camp, but also around the lake for quiet walks and exploration.

We have a fun and challenging course designed to experience the power of team work for camps, business groups and retreats.

Waterfront
Our spectacular water front is great for swimming, boating, canoeing, kayaking and best of all, baptisms!  Two docks provide places to launch boats or sit and enjoy the water.  Guests are invited to launch their boats at the public launch site just down the shore and pull up to our dock during their stay.  Life jackets and paddles are all provided for you.