Challenge Course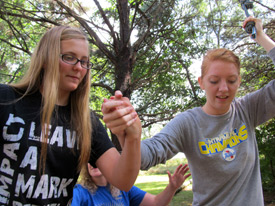 Q: What is a Challenge Course?
A: A challenge course is designed to take a healthy look at group dynamics in a controlled environment. With the help of a facilitator, groups will learn both intra-personal and inter-personal skills. In order for the elements to be completed successfully, full cooperation is essential.
Swan Lake has primarily low elements, meaning that they are less than two feet off the ground. This reduces the risk of injury. Supervision will be supplied at all times.
The Challenge course is an adventure approach to recreation and learning about one's self.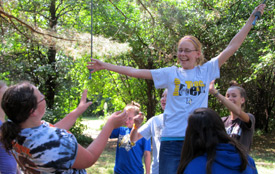 Q: Who Can use the Challenge Course?
A: We welcome any type of group that desires to learn more about themselves and how to interact within their group.
Students–Sometimes coming into a new school can be difficult when you are in middle school or junior high. Doing these elements gives the group a common experience that tends to build group identity and can help kids to adjust.
Business Colleagues–These team members will learn how to work together on the course, and then you can take it back to your place of business.
Youth Group–Bring your youth group and find out how well you can work together while having fun.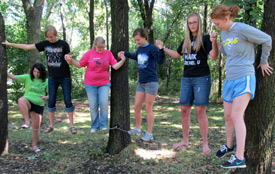 What is the Purpose of the Challenge Course?
To increase the participant's personal confidence. If a participant succeeds (or sometimes fails) in a supportive group, the individual has the chance to build self-esteem.
To increase the mutual support within a group. Success and failure are not as important as effort in these elements. The elements are set up to encourage people to go out of their comfort zones. Cooperation and a supportive atmosphere make people feel more comfortable participating.
To increase joy in one's physical self and in being with others. These elements aren't just for learning about one's self, but also to have fun and enjoy being with others. It can be fun to learn how to work together, to achieve a common goal.
To identify tendencies within your group. One of the goals of the Challenge Course is to identify natural leadership tendencies within the group and help to build on the positive styles while giving suggestions for more effective problem solving.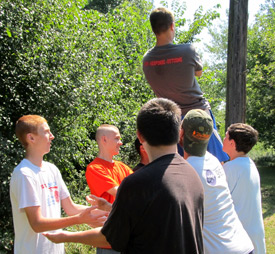 Scheduling your group
We schedule sessions in spring and fall.
We offer a morning session from 9 am to 12 pm and an afternoon session from 1 pm to 4 pm. If these times don't work for you, we can negotiate to fit your schedule.
Cost is $10 per participant for a three hour session. No charge for chaperones.
The group size that is best to work with is 6 to 10. If you have a bigger group, we suggest that you contact us to make special arrangements.
For middle school and high school groups, we require one chaperone for every 10 students.
Lunch can be provided with either session or your group can bring sack lunches.
All you have to bring is your group, good attitudes and weather appropriate clothing. We will be spending most of the time outdoors.