Frequently Asked Questions
Q: Will religion be forced on my child?

A: We are a Christian camp, and will clearly present the gospel in our camping programs and activities. Our staff will also model a Godly lifestyle that we hope campers will want to emulate. In most camps, an invitation to follow Christ will be given. However, we recognize that it is a personal choice to become a Christian and respect each individual's decision.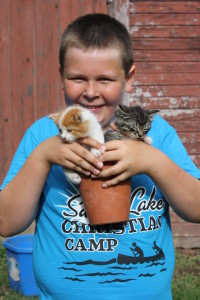 Q: What activities go on throughout the day during camp?
A: We try to cater to every aspect of life by incorporating personal quiet time, singing, crafts, Bible Study, group recreation, canoeing, swimming, and evening campfires.
Q: If my child is unable to come to the week of camp specified for his/her grade, can he/she come to a different week of camp?
A: Yes, if there is a conflict with that child's particular week of camp, he/she can attend either the camp for the grade below or above his/her current grade. Or, if his/her friend(s) are in a different grade, they can decide which week to go so that they can attend together.
Q: What to bring to camp?
A: Campers should bring personal items (including soap, towels, medications), Bible, sleeping bag or bedding, swimsuit, insect repellent, and rugged clothing.
Senior high students only: We will have a banquet meal/talent show so you may want to bring dress clothes and come prepared to share your talent.
Q: What NOT to bring to camp:
A: Camp is a time to break away from routine and experience a special time with God and people. For this reason we request that NO radios, tape/CD players, cellular phones, food and pop, watches, or money be brought to camp.
Q: What kind of Swimwear is appropriate?
A: Swimwear should be modest. The directors reserve the right to require a t-shirt or shorts to be worn over swimwear they feel is inappropriate. It is strongly recommended that you bring water shoes to wear in the lake. Swan Lake is a state owned natural spring fed lake.  There are some sharp rocks near the shore.
Q: Does the camp have a canteen?
A: Usually, No. We do have a building that has been used as a canteen. Some groups that rent the camp facilities do stock the canteen. We do not sell snack food or pop at the camps that Swan Lake Christian Camp directly sponsors. We provide snacks throughout the day, and the cost of these are included in the registration price. There are opportunities to buy t-shirts during registration time for your camp.